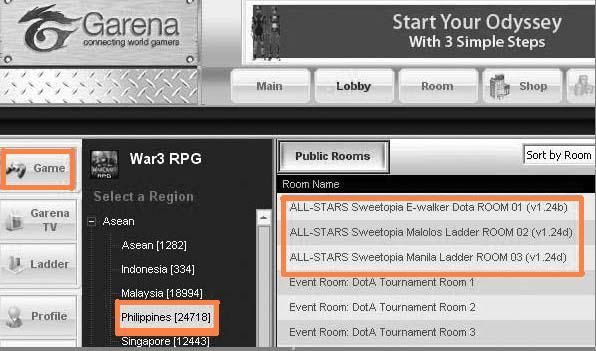 Room Location: Game → War3 RPG → Asean → Philippines →
Room owner: sweetopia-admin 
Head admins: ar_thur
Clan Founder: sweetopia-angel
Clan Lord: sweetopia-admin
Clan Admins: sweetopia.admin, toopak.com


1.01)Bawal magreklamo ang mga na-ban ng players hanggang di tapos ang investigation. Sweetopia owners & head admins reserves the right to temporary ban any suspected player / clan members / room admins without prior notice while under investigation. Complicated cases may take months to be resolved.

1.02) Bawal mag quit sa Garena games ng walang paalam. Game quitters. Any sweetopia clan member who will accumulate 10 unfinished garena games (intentional quitting) will be permanently kicked-out of the clan. Each quit will be punished by 3 days room ban. Unavoidable disconnects are excused but you must provide a screenshot as proof that you did not quit your game intentionally
1.03) Bawal bastusin ang sweetopia clan at sweetopia rooms. Insulting sweetopia clan & sweetopia rooms on the Garena Chatroom is prohibited. But you can say whatever you want on the Warcaft chat window inside your game.
PUNISHMENT: 999 days room ban

1.04) Bawal umalis sa clan ng hindi nagpapaalam sa head admins or room owners. Disloyal INACTIVE clan members who will leave Sweetopia clan without my consent will be automatically banned on all Sweetopia Garena rooms. If you want to leave our clan, pls contact me on my YM / email: turonsantos@yahoo.com or txt me at 0927-9150821.
PUNISHMENT: 999 days room ban

1.05) Bawal mag-afk (away from keyboard) sa kahit na saang Sweetopia Garena Room. AFK players are not allowed on any Sweetopia Garena Room. Rooms slots should be maximized for active players only. 
PUNISHMENT: Room KICK
1.06) Bawal i-trashtalk at bastusin ang mga babaeng room admins, room head-admins at room owners. Trashtalking room owners (sweetopia & sweetopia-admin) & room head admins (sweetopia-mamon, ar_thur & sweetopia-bmw28).
PUNISHMENT: 999 days room ban
1.07) Bawal magtype ng paulit-ulit na walang-kwentang salita sa chatroom. No Spamming on the chatroom (typing non-sense words).
PUNISHMENT: Room KICK

1.08) Bawal gumamit ng colored names (hacknames) accounts katulad nito .|c00ff0000 sa room. Libre na ang Garena USERNAME rename kung colored name ang gamit mo...pumunta ka lang sa link na ito: http://www.garena.ph/login_ui/?nextpage=/account/ .Logging-in your color-coded (hackname) Garena account such as this .|c00ff0000 is no longer allowed on all sweetopia rooms. You can rename your Garena account now for FREE. Just click the link provided above. 
PUNISHMENT: Room KICK
1.09) Bawal mag-paste ng links ng mga hack software. NO Posting of hack links.
PUNISHMENT: 999 days room ban
1.10) -reserved-
1.11) Bawal mandaya sa game at gumamit ng kahit anong klase ng hacks. NO hacks & cheats (icon hack, game hackers, cheaters etc.):
PUNISHMENT: 999 days room ban

1.12) Bawal awayin at pag-initan ang mga kagalit nyo sa room. Trash talking fellow players (except Room Head Admins) is allowed but NO FLAMING (what is flaming?):
PUNISHMENT: Room KICK

1.13) Bawal mag-type ng paulit-ulit na salita o sentences sa chatroom. NO FLOODING (consecutive repetition of words or sentences to get noticed on the chatroom):
PUNISHMENT:
1st offense: warning
2nd offense: Room KICK

1.14) Bawal kulitin sa chatroom ang mga room admins kung naka-OFF ang private message nila. Room Admins (also called Channel Admins) are allowed to disable their private messages specially when they are playing. It is their choice if they want to respond to questions from non-clan members but they are obliged to help Sweetopia clan members ALWAYS.
1.15) Bawal manggulo sa loob ng DOTA game tulad ng pag-abuso sa teleport ni chen, pagsira o pagtatago ng gamit ng mga kasama at iba pang klase ng paglalaro na hindi normal. Game crashers will be banned indefinitely.

________________________________________________________________________________

•Garena ROOM ADMIN DUTIES•
You are appointed by me (sweetopia / sweetopia-admin) & I'm directly responsible for all your actions. Behave as an admin & be professional. Be sure to take a screenshot as evidence before banning players so you can defend yourself in case the banned player complains. If the banned player has proof that you abused your admin power & if you don't have any counter-evidence, I will have no choice but to favor the complainant & punish you.

If any other Garena Philippines public room admin wants changes on our room, they should first consult me because we are a private room & you are not allowed to follow any orders from them without my consent. Give them my email: turonsantos@yahoo.com or cell number 0927-915-0821 if they want to talk to me.

DO NOT ENGAGE IN PUBLIC DISPUTES WITH YOUR FELLOW ADMINS. YOU SHOULD RESOLVE YOUR PROBLEMS PRIVATELY & INFORM ME AS SOON AS POSSIBLE IF YOU FAIL TO SETTLE THEM. BE PROFESSIONAL. YOU DON'T HAVE TO FLAME  EACH OTHER ON FORUMS & INSIDE GARENA ROOMS BECAUSE AS ROOM ADMINS, YOU HAVE  A DIRECT CONTACT TO ME VIA CELL PHONE, LANDLINE & EMAIL. THE FORUM IS A PLACE FOR ORDINARY PLAYERS WHO DOESN'T HAVE DIRECT ACCESS TO ME & OTHER GARENA AUTHORITIES SO THEY CAN COMPLAIN THERE. IF YOU DECIDE TO SETTLE THINGS PUBLICLY IN THE FORUM, THEN DO NOT CONTACT ME BECAUSE I WILL SETTLE YOUR PROBLEMS AT MY OWN CONVENIENCE AFTER I READ YOUR FORUMS POSTS.


2.01) Bawal mag-UNBAN ng kahit sinong players. do not unban any players. You will just waste other admin's efforts if you unban the abusive players on the room. I will keep a backup copy of the room banlist to monitor your banning activities. Only sweetopia owners & head admins can unban players (with my permission). You will lose your admins status instantly if you violate this rule

2.02) Laging tulungan ang mga clan members kapag may tanong or problema sila. your number 1 priority is to assist clan members
2.03) Ban ang mga quitter sa games. 

2.04) Dapat online ka 4 na oras araw-araw sa Garena. You must be online (not afk) at least 4hours per day
2.05) Gamitin lagi ang isip sa mga pagde-desisyon at hwag gamitin ang inyong admin status para gumanti sa mga nakaaway nyo sa Garena. You must be rational. past grudges with other players should not be an issue on your decision-making. do not use your admin status to take revenge on people who mistreated you in the past.

2.06) Bilang Room Admin, kailangan pumagitna ka sa mga away at pilitin makatulong sa mga taong involved. lagi you must be neutral when there are disputes among clan members & you should help them resolve their problems

2.07) Kailangan strict ka lagi at i-ban mo kahit mga kaibigan mo kung may violation sila. you must be strict. room violators should be kicked / banned even if they are your friends
2.08) Bawal maningil ng pera sa kahit na sinong members ng Sweetopia or Garena players. You can invite your friends to join us but only sweetopia, sweetopia-admin & sweetopia-mamon  accounts has the right to collect clan slot fees & accept new members after screening them. you are not allowed to collect money or any form of extortion from clan members.
2.09) Laging makipagtulungan at makipag-usap sa mga kasamahang admins para maiwasan ang di pagkaka-unawaan. Always coordinate with your fellow room admins to avoid confusion & misleading information

2.10) Bawal palitan ang ROOM ENTRY LEVEL, PASSWORD AT ROOM DESCRIPTION ng walang paalam kay sweetopia-admin. Do not change the room entry level, password & room description without my approval
2.11) Bawal ipahiram ang admin account sa kahit na sino kahit pa sa kaibigan or kamag-anak. Do not share your accounts to anybody even to your fellow admins

2.12) Bawal gamitin ang "BROADCAST TO ROOM" admin function sa pansarili or personal announcements. You are not allowed to use the "broadcast to room" command for personal purposes. Use it for important announcements only. Game-related announcements are allowed.

2.13) Kapag may tanong ang mga players sa room, ibigay ang website links ng Sweetopia sa ibaba para di maaksaya ang inyong oras sa pagpapaliwanag at para mabasa nila ng kumpleto ang mga detalye sa kasagutan ng mga tanong nila. Avoid answering personal & repetitive questions from room players. send them our corresponding website links that would answer their questions to save time & effort.
for questions about the sweetopia shop location, send this
for questions why our clan , shop & garena room is called sweetopia, send this
for other concerns, send our official website link: www.sweetopiaclan.com
---



•Garena Room Admin Penalties•

1st offense → warning
2nd offense → lose admin status


---
•Garena Room Admin Commands•
1) admin function

→

broadcast to room

: use this to send a system message (colored green) on the chatroom. Only use this for very important announcements involving dota & sweetopia clan-related information. Personal announcements are NOT ALLOWED!

2) admin function,

trace ip

→

trace the ip address of any player inside the room so you would know if he is the same offender using a different username. Using the same command, you can also trace the geographical location of the player (manila, bulacan, singapore, etc.) & their Internet Service Provider name (pldt, smart-bro, bayantel)

3) admin function,

kick

→

for kicking a player inside the room (this is different from ban because he can still come back to the room after a few hours)

4)
/room

→

type this on the chatroom to ban offline players & update room welcome message
---